Cheap Home Insurance – Find the Most Affordable Home Insurance Quotes
---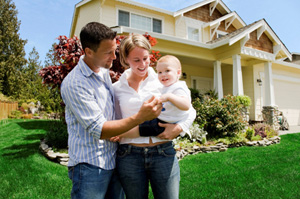 Although your lender may require adequate insurance, this requirement does not mean that the policy cannot be affordable.  Cheap home insurance rates are available in the market from reputable firms, but effort and support are required to find the policy that best fits your individual needs. Every homeowner can protect his or her investment by purchasing cheap home insurance, but trade-offs between various coverage levels may influence your final decision. A typical homeowners insurance policy provides coverage for both property damage, as well as liability for injuries to other people or damages to their property.
Home Ownership and the Need for Insurance Coverage
Buying a home is often considered the ultimate American dream, but dreams can turn into nightmares if adequate insurance coverage is not in place when disaster strikes.  In order to protect your financial interest in what may be your family's largest investment, it is prudent advice to research the various types of property coverage available and the factors that may influence the premium calculated for your individual policy.  Costs will necessarily be considerable due to the value of your intended purchase, and, if you intend to have a mortgage on the property, your lender will require adequate coverage to protect his collateral.
The "ABC's" of Home Insurance
A standard homeowners insurance policy provides coverage for the structure of the home such as roof damage, coverage for personal items, living expenses if you are unable to reside temporarily in your home due to damage repairs, and liability coverage that includes legal fees and damages awarded to an injured person, including potential medical expenses.  The insurer will also require that the dwelling is your permanent residence.  If you have rental property or a second home to insure, your insurance company has other policies that are designed for these situations.  It is very important to review the details of perils covered and specific exclusions in the policy fine print.  For example, if you live in an area prone to flooding, you may not be covered.  You may have to purchase additional coverage for this specific risk.
When you are preparing to buy a home, you will need to acquire adequate and affordable home insurance coverage before escrow can close on the purchase transaction. The cost will depend on the replacement value of the property and its contents, but your personal possessions may be subject to individual limits.  Take the time to evaluate your individual needs, and then utilize an Internet quote acquisition service to obtain several industry quotes for cheap homeowners insurance from reputable companies. You may also benefit from discounts by combining all of your insurance needs under one company, another consideration worth evaluating.
Get to Know Your Home Insurance Policy Coverage
It is important that every homeowner review on a regular basis what is covered in their homeowners' insurance policy and what is excluded by it. For instance, if you live in a flood or earthquake risk area, these perils are not generally covered under a standard homeowners insurance policy. Coverage for your furniture and fixtures, personal belongings, and collectibles may also have specific limits for how much will be covered. Expensive items like jewelry and art are covered, but the limits that apply to these items should be adjusted over time to ensure adequate coverage. To insure these items to their full value, you may need to purchase additional special coverage.
Additional Special Coverage
While your homeowners' policy can protect your property, there are some items that need special coverage and may still be covered securely with cheap insurance. "Personal Umbrella Coverage" provides personal liability protection over and above the coverage provided by homeowners', automobile, or other personal liability policies. "Valuable Property Insurance" will cover expensive items not completely covered with the standard homeowners' policy.
Inventory of Home Valuables
It is important to keep an inventory of valuables. According to FBI reports, every "15.4" seconds a home is burglarized in the United States. One way to identify your valuables is to mark each item with a special number such as your drivers' license number. Always photograph and record the serial number of each item. Store the copies in a safe deposit box. Keep receipts of the larger items in the event that you need to prove the value of the items for insurance purposes. Make sure your home insurance policy is up-to-date and covers today's replacement costs.
House Insurance
Insuring a residence means protecting not only the structure itself from damage, but also the contents within. Although many lenders require insurance on the property in addition to covering the mortgage, many people do not have sufficient protection to cover losses due to fire, windstorms or theft. And apartment dwellers often overlook the many benefits of renters insurance. Finding the cheapest house insurance that offers adequate protection can be a challenge, but in the end it can prevent the financial heartbreak associated with substantial property damage.
Single Family Homes
A detached single family home means that there is one primary structure on the property, but differing types of buildings may need different insurance protection. A three-bedroom rambler in a suburban neighborhood may require a different kind of overall policy as opposed to a beach side bungalow.
Finding Affordable House Insurance
A typical home will have appliances, carpeting, heating and air conditioning system, interior wood framing within the walls and perhaps a basement. Affordable house insurance will need to be sufficient to cover damage to the property, including its fixtures and appliances, in the event of damage from fire, smoke, vandalisms or burglaries, land subsidence and burst pipes. All of these can affect the entire interior of the home. On the other hand, a policy may not include the protection of valuables unless a cash value contingency is part of the coverage. This can often be added for a nominal increase in premiums.
Prefabricated Homes
Prefabricated homes or those which do not sit on a foundation, such as a simple A-frame or bungalow may not be covered by a standard policy; there are separate packages available for these unit types. And mobile homes, because of their construction materials, may qualify for an extremely cheap house insurance policy.
Condominiums
Cheaper house insurance is available for condos and purchased town homes, as there are shared interior walls and the owner is not responsible for certain damages to the exterior of the unit. There may be a homeowners association that requires a monthly payment to share the costs of maintenance and damage to the building itself, but the individual owner of the condo will want to look at the various quotes given for policies covering damage by fire or smoke to the interior of the unit.
Apartment Units
Renters insurance covers the loss of valuables in an apartment if it is vandalized. Providers will want a complete inventory of the replacement costs for furniture, appliances and electronics/entertainment systems. Although the property owner carries insurance covering the structure itself, it is up to the individual renter to protect personal items.
New Construction and Industrial Properties
Insurers will want to know what the building is being used for as well as the construction materials that go into the structure itself. The likelihood of fire increases or decreases depending on the number of occupants, what materials make up the frame and interior walls, and what kind of activity is ongoing within the premises. After a policy is in force, building owners must report any modifications or refurbishing, otherwise the policy can be invalidated.
Think of Replacement Costs
Personal items should be reported with a price tag for their replacement rather than their actual value. Affordable house insurance means paying as little as possible while making sure that the valuables within are covered by a cash value policy, sometimes known as a contents coverage. Cheaper house insurance policies does not always include this vital part of the protection, which covers loss due to burglaries.
The cheapest house insurance will not always cover damage to everything on the property but there are very affordable insurances that will cover what you need. It is up to the owner or apartment renter to make sure that he or she is signing a policy that protects the valuables as well as the structure itself.
Cheap house insurance is available, but a careful listing of the contents, as well as providing an accurate property survey and appraisal to an insurance provider is the only way to find out just what the cost will be. Remember, the price of replacement is much higher should the unthinkable occur and there is no protection in force.
Confirming Your Insurance Company's Credibility
No matter which homeowners' insurance quote meets your criteria, it is important to confirm that company's financial credit worthiness. The National Association of Insurance Commissioners (www.naic.org) provides ratings for insurance companies. Although acquiring cheap home insurance is a prudent way to protect your home, the insurance is only as good as the company that stands behind it.  If you choose to go with a less reputable company to obtain cheaper home insurance, it becomes a necessary step to thoroughly research your insurance company's financial standing, in addition to checking the fine print in your policy documentation.
Concluding Remarks
The loss from damage or destruction to a house can cause great financial difficulty for a homeowner that does not have adequate insurance coverage. Property Insurance generally protects a homeowner against loss from damage due to fire, lightning, wind, hail, smoke, and vandalism, but be sure to review the details in your policy and the financial stability of your intended insurer before agreeing to anything.
At Cheap insurance 123 we cover the most interesting data, news, and stats on auto insurance, health insurance, life insurance, and home insurance. Please visit our home page to learn more.