---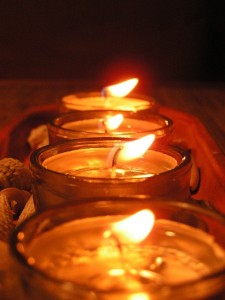 We all love candles – on the dinner table, atop a birthday cake, on the coffee table, or in the bathroom. They can be part of your home decor, can be stashed in your linen closet or underwear drawer to act as sachets until you're ready to burn them, and they make great gifts.
Unfortunately, candles are also a fire hazard. A report from the National Fire Protection Association says that between 2003 and 2007, for example, American firefighters responded to about 15,260 house fires a year, all started by candles. Annually, those fires resulted in an average of $450 million worth of property damage, 1,289 injuries, and 166 deaths. In the same four-year period, the Association's report says, 10 percent of fire-related home injuries, 6 percent of home fire-related deaths, 7 percent of property damage were caused by candles, which were the cause of 4 percent of all reported house fires.
How did candles cause so much pain and damage? Well, the same report says that in 12 percent of cases people fell asleep while candles were left burning, which also led to 36 percent of candle-fire related deaths. That same percentage – 36 – was also the number of candle fires which began in bedrooms. It shouldn't be surprising, then, that many apartment complexes and homeowners associations are attempting to ban the use of candles.
The best time to find out how much you can save on your present insurance policies is right now!
We provide you with the convenience of online shopping, the benefit of comparison quotes, and the offer of excellent cheap insurance coverage through our relationships with the very best companies in the industry.
[insurance_quote]
Still, those of us who love our candle power can use candles safely. Here's how:
Always extinguish candles before you leave a room, or turn in for the night.
Be sure to extinguish a candle's flame before the candle has burned too close to the bottom of its container – this is especially true with glass containers. Yankee Candle, for example, recommends considering a candle "finished" when there's half an inch of wax left.
Don't use candles in place of flashlights or emergency lighting during blackouts.
Always choose sturdy candle holders that will contain the molten wax and are unlikely to tip over.
Never, EVER, use candles (or any open flame) if someone in your home is on oxygen.
If you should have a candle-related accident, the good news is that your homeowners policy covers fire damage, though, depending on the way your policy is written it may only reimburse you for the depreciated value of any destroyed belongings, rather than the actual cost to replace them. Also, you will be paying a deductible if you make a claim.
Before you light your next candle, take time to review your homeowners insurance police, and read the details on fire insurance coverage.