---
In March, 2010, the United States Congress passed the Affordable Health Care Act, and President Obama signed it into law.
Part of this reformed health insurance law includes a program called the Pre-Existing Condition Insurance Plan (PCIP), which is designed to make health insurance available to people who have been refused coverage by private insurance companies because of a pre-existing condition.
The PCIP will provide you with a new health insurance coverage option if you meet the following three criteria:
You have been uninsured  for at least six months
You have a pre-existing condition, or have been denied health insurance because of a health condition.
You are a U.S. citizen or legal resident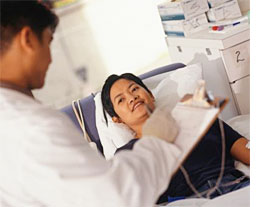 Depending on where you live, this plan may be administered by your state's government or the U.S. Department of Health and Human Services, but it's not a permanent plan. Instead, it's a stop-gap meant to cover people with pre-existing conditions until 2014.
What Happens in 2014
If you've been unable to obtain health insurance because of a pre-existing condition NOW, the PCIP will give you a coverage option, but in four years everyone will have access to affordable health insurance choices via a new insurance marketplace referred to as an exchange.
Exactly What Does the Pre-Existing Condition Insurance Plan Do?
Basically it means you can't be discriminated against by insurance companies if you have a pre-existing condition.
For years many U.S. states have already had programs called "high risk pool" or "pool insurance" which do offer insurance to those with pre-existing conditions. The PCIP builds on those pools, either by allowing states to either use the new resources that were made available by the Affordable Care Act, or let the U.S. Department of Health and Human Services do the work to provide coverage.
The best time to find out how much you can save on your present insurance policies is right now!
We provide you with the convenience of online shopping, the benefit of comparison quotes, and the offer of excellent cheap insurance coverage through our relationships with the very best companies in the industry.
[insurance_quote]
Specific features of the PCIP are:
It does not base eligibility on income
It won't charge you a higher insurance premium solely because of your medical condition.
It will cover a broad range of health benefits, including primary care, specialty care, prescription drugs, and hospital care.
You won't be denied any of the covered benefits, even if they are meant to treat a pre-existing condition.
Special Protections for Children
Another aspect of the change in pre-existing conditions and health care is already in force. Insurance companies are no longer permitted to limit or deny benefits or refuse coverage for children younger than 19 years old just because the child has a pre-existing condition, and this rule applies to all job-related health plans in addition to individual health insurance policies that were issued after March 23, 2101.
This rule will affect your plan as soon as it begins a new "plan year," which is the twelve-month  period that begins at your plan's inception and re-starts on the anniversary date each year.
Important features about the new rules for covering children with pre-existing conditions are:
These protections will be extended to all Americans beginning in 2014.
The new rules do not apply to "grandfathered" health insurance policies (individual health plans that you bought for yourself or your family before March 23, 2010, and are not job-related).
This rule applies whether or not your child's health condition or disability was discovered or treated before you applied for coverage.
To prevent abuse of the new rules, an amendment was made to the protections requiring insurance companies to offer specific periods of open enrollment.
If this seems like a lot of confusing information, just remember the basics: before 2014, there will be either a state or federal coverage option for you if you have a pre-existing condition via the PCIP. After 2014, you'll be able to apply for coverage via an insurance exchange. Either way, most Americans with or without pre-existing conditions should be able to find affordable health insurance plans sooner rather than later.